CONTENTS
Creative Imitation 1 (in-class)
Care of the Seasick Queene Hooper Foster
Creative Imitation 2
The Battle of Agincourt John Keegan
The Boys' Ambition Mark Twain
Creative Imitation 3
11800 Twinlakes Drive Olivia Stewart
My Neighborhood Amanda Bernhardt
Creative Imitation 4
Victoria Patti Koch
The Welch's Grape Girl Leigh K. Challenger
Creative Imitation 5
King James I Stephen Greenblatt
Dr. Thomas Rude Louise Brooks
Creative Imitation 6
England Olivia Stewart
Forks Kieca Mahoney
Creative Imitation 7
Hollins Pond Annie Dillard
Tanzanian Peaberry Coffee Beans Alexandra Griffin
Creative Imitation 8
Naples Ralph Kirkpatrick
The Bordeaux Country Waverley Root
Creative Imitation 9
Medieval Man C. S. Lewis
The Elephant's Trunk Steven Pinker
Creative Imitation 10
Boxing A. J. Liebling
A Good Appetite A. J. Liebling
More Classic Prose
The Audubon Field Guide
Oranges John McPhee
Care of the Seasick Queene Hooper Foster
Holbein's The Ambassadors Stephen Greenblatt
---
Care of the Seasick
From
Queene Hooper Foster
Boating Etiquette. New York: Hearst, 2005, page 89.
Seasickness makes you lethargic, weak, down at the mouth, and hopeless, in addition to dizzy and prone to vomit. It makes you want to roll through the lifelines and slip into the waves to end the horrible condition that flesh is heir to. You may not care if the fuel needs checking, the sails need trimming, or the navigation needs updating. It can make you furious with yourself for being out there at all, so furious that you don't care if you are wet and cold, hungry and dehydrated, or drifting into harm's way.
---
The Battle of Agincourt
From
John Keegan
The Face of Battle. New York: Penguin, 1976, page 78.
Agincourt is one of the most instantly and vividly visualized of all epic passages in English history, and one of the most satisfactory to contemplate. It is a victory of the weak over the strong, of the common solider over the mounted knight, of resolution over bombast, of the desperate, cornered, and far from home, over the proprietorial and cocksure. It is an episode to quicken the interest of any schoolboy ever bored by a history lesson, a set-piece demonstration of English moral superiority and cherished ingredient of fading national myth. It is also a story of slaughter-yard behaviour and of outright atrocity.
---
The Boys' Ambition
From
Mark Twain
Life on the Mississippi. (1883) Chapter 4.
When I was a boy, there was but one permanent ambition among my comrades in our village on the west bank of the Mississippi River. That was, to be a steamboatman. We had transient ambitions of other sorts, but they were only transient. When a circus came and went, it left us all burning to become clowns; the first negro minstrel show that came to our section left us all suffering to try that kind of life; now and then we had a hope that if we lived and were good, God would permit us to be pirates. These ambitions faded out, each in its turn; but the ambition to be a steamboatman always remained.
---
11800 Twinlakes Drive
From
Olivia Stewart
copyright © 2000.
The hallway at 11800 Twinlakes Drives looks like the hallway of a mid-grade hotel. The lighting is always dim and the fixtures aren't fashionable at all but they aren't obtrusive. The walls are a very bland beige with textured blue wallpaper around the doorways. The wallpaper is edged by wood which is real, but with no particular polish or quality. Compounding this blandness is an unaesthetic cleanliness. The maids clean without thought to much of anything, including their paychecks, so while the place is never dirty it is never impressive, either. However, there is a large mirror across from the elevator which is good enough and useful since I only have a small mirror in my bathroom and never would know if there was a run in my stockings otherwise.
---
My Neighborhood
From
Amanda Bernhardt
copyright © 2000.
The condition of the neighborhood in which I grew up displays both desperate poverty and overflowing excess. The sunken houses, discolored by rain, have walls that sag like wet cardboard and ramshackle porches that the slightest breeze might collapse, killing the several youngsters and dogs playing underneath. Oddly enough, these poor families, who often can't afford shirts for their boys or hairpins for their girls, accumulate mountains of junk in their backyards: rusted wheelbarrows, scorched pots, broken swing sets, fleabitten sofas. It is as if, despite their poverty and the uselessness of their trashy possessions, the poor are still driven by the all-American instinct to acquire.
---
Victoria
From
Patti Koch
copyright © 2000.
Victoria is a petulant young girl, talented at sustaining a pout. The ease with which she manipulates her parents is recognized immediately by strangers but not at all by her parents. When Victoria realizes she has hit her parents' last nerve, she calmly saunters away from them with feline disinterest and disdain. It is hard work for a nine-year-old child to outsmart two adults. It leaves the child drained of energy but filled with power.
---
The Welch's Grape Girl
From
Leigh K. Challenger
copyright © 2000.
Kate Viggiano is not afraid of spiders, snakes, or heights. She is not afraid of walking alone after dark, trying new food, or going up to strangers and starting a conversation. Her only fear is of a four-foot-two, perky blonde child. Ms. Viggiano is a confident, healthy, 20-year-old college student with an overwhelming fear of the Welch's Grape Juice Girl. The child's smile, which looks like as if she has a hanger permanently implanted in her mouth to make her smile wide, "looks like the devil's grin" to her. The child's dark, angular eyebrows and pointed incisors are also reminders of The Prince of Darkness. Ms. Viggiano explains that the child "gives me nightmares. That grin . . . It's just too scary to be forgotten." The fact that the child is articulate and doesn't speak with a toddler's lisp is even scarier to Ms. Viggiano. She claims that it's a conspiracy by the Welch's company; the "child" is actually a "thirty year old in a five-year-old's body."
---
King James I
From
Stephen Greenblatt
Will in the World. New York: Norton, 2004, page 333.
James was nervous, deeply nervous. He could relax, toy with abstruse scholarly questions, get drunk, fondle his handsome male favorites, lose himself in the peculiar joy of killing animals. He could, in the right mood, laugh at himself and be teased, even quite coarsely. But he could never entirely escape the terror that haunted him. Attempts to delight him with firework displays or surprises tended to go awry; chance events could conjure up horrible memories of his past; and though he was an ardent hunter, he could never learn to fence, because the sight of a drawn sword would suddenly send him into a panic.
He had good reason for fear. Not only had his mother been executed by the queen on whose throne he sat, but his father had died at an assassin's hand. He himself had narrowly escaped assassination on at least one and perhaps more than one occasion. He believed that his enemies would stop at nothing in their attempts to harm him and his children: he feared not sharp steel alone but also wax figurines struck with pins and the mumbled charms of toothless old women.
---
Dr. Thomas Rude
From
Louise Brooks
Lulu in Hollywood. New York: Knopf, 1982, page 4-5.
My mother was born in Burden, Kansas, in 1884, to Mary and Thomas Rude, who was a country doctor. Because he was the only doctor for miles around, the villagers, though they were a puritanical lot, found it necessary to condone much in him that they would never have forgiven in others—drinking, smoking, swearing, and refusing to go to church. He delivered babies, set bones, and eased the pain of the dying with morphine. When the weather was good, he drove to see his patients in a horse-and-buggy. When the weather was bad, he rode horseback. And when the weather was very bad and the horse could not find its way in the snowdrifts, he went on foot. A few of the patients paid him with money, some with pigs or sacks of corn, many with nothing at all.
---
England
From
Olivia Stewart
copyright © 2000.
Contrary to an annoying number of Americans' romantic visions, England is a third-world country with beautiful architecture. Buildings such as St. Peter's Cathedral or Warwick Castle do not make up for the absence of water pressure, fairly regular oil crises, usurious tax rates, poor medical attention that can take weeks, if not months, for someone to get, a class system that more resembles a caste system and regular bar room and street brawls over politics. Their food supply faces contamination regularly, and mad cow disease was by no means the first problem with English food, even if you don't count the taste of English food. The US socialist and communist parties like to point to England's health care system as an example of what we should do. Of course they fail to mention that even in a country as small as England, those in poor and rural areas wait a month or two to see, if they are lucky, a third rate doctor, but usually a nurse. In fact, the only thing England can take pride in is their transportation system, but the best and least confusing elements of that come from the Romans.
---
Forks
From
Kieca Mahoney
copyright © 1998.
After almost two hundred years of problems with crazy foreigners, Americans eventually got fed up with what they felt was snotty dining nonsense and simply began wrapping all of their food in bread so that they could eat it with their fingers and not get the important part dirty. Fast food chains, combined with the wheel, flourished, creating a society that could steer with one hand and eat with the other. Americans became obsessed with mobility and forgot all about table etiquette, becoming rather like the early unimaginative cavemen who didn't know about forks and spoons. Forks evolved into something found only in the road and Americans managed to prove once again that history is tiresome.
---
Hollins Pond
From
Annie Dillard
"Living Like Weasels" Sisters of the Earth. Ed. Lorraine Anderson. New York: Vintage Books, 1991: 106-111.
Twenty minutes from my house, through the woods by the quarry and across the highway, is Hollins Pond, a remarkable piece of shallowness, where I like to go at sunset and sit on a tree trunk. Hollins Pond is also called Murray's Pond; it covers two acres of bottomland near Tinker Creek with six inches of water and six thousand lily pads. In winter, brown-and-white steers stand in the middle of it, merely dampening their hooves; from the distant shore they look like miracle itself, complete with miracle's nonchalance. Now, in summer, the steers are gone. The water lilies have blossomed and spread to a green horizontal plane that is terra firma to plodding blackbirds, and tremulous ceiling to black leeches, crayfish, and carp.
---
Tanzanian Peaberry coffee beans
From
Alexandra Griffin
copyright © 2000.
Tanzanian Peaberry coffee beans, when properly roasted, have a color between caramel and deep tan. Each bean is a nearly perfectly spherical ball the size of a pea, with a natural seam running across one side as if it were a normal coffee bean made of clay and rolled into a ball. Actually, this shape is produced by one special species of coffee tree which grows berries that bear only one bean apiece, while average coffee berries must support two beans each, which gives them the classic hemispherical shape. Since each berry supports only one Peaberry bean, the beans have an intense and inimitable flavor. This raw flavor makes for less roasting, and therefore a relatively light brown color.
---
Naples
From
Ralph Kirkpatrick
Domenico Scarlatti. Princeton: Princeton UP, 1983, page 1-2.
In 1685 Naples was as populous, as noisy, and as dirty as it is now. Even then it was a little battered, and from the summit of the town its crumbling medieval fortresses looked out over the harbor. Up the hill from the waterfront swarmed a jumble of splendor and squalor, of magnificence and filth. Palaces with the stench of the gutter rising to their very cornices bounded broad sunlit squares or concealed the narrow alleys that were then as much out of bounds to the respectable rich as they were to the Allied soldiers of 1944. The inhabitants of these dark alley dens on the Neapolitan hillside lived then, as they live now, in the street. The street was not only the thoroughfare and the promenade, but also the center of social life and natural functions. There naked babies played in the dunghills; their brothers and sisters chased dogs and mules; and their elders made love. In the narrower passages an occasional clatter of hooves drowned out the muffled sound of human feet. In the streets that were broad enough could be heard the rattling of carriage wheels, the lashing of whips, and the soft belching cry of the Neapolitan carter to his horse or, more probably, a very Vesuvius of curses, as rich and colorful as the piles of melons and peppers on the street corners and as odoriferous as the fish of the nearby market.
---
The Bordeaux Country
From
Waverley Root
The Food of France. New York: Vintage, 1958, page 148-49.
Most guidebooks on France or on Paris inform their readers that the Place de la Concorde is the largest in Europe (except the Red Square in Moscow), and therefore most guidebooks are wrong. The largest square is the Esplanade des Quinconces in Bordeaux, some 140,000 square yards in area as compared to about 90,000 for the Place de la Concorde. The pride of Bordeaux is the Grand Theatre. It does not outrank the Paris Opera in size–the Grande Theatre seats 1,300 the Opera 2,200–but when Garnier built the Opera he was inspired by the Grand Theatre–for instance, the famous curving double staircase of the Opera is borrowed from the same detail in Bordeaux. The city of Bordeaux pays a heavy subsidy to operate its theater, for it stages its spectacles in so lavish a manner that even if it played to capacity audiences at every performance it would still lose money. The city thinks the result is worth it.
---
Medieval Man
From
C. S. Lewis
The Discarded Image. Cambridge: Cambridge UP, 1964, page 10.
At his most characteristic, medieval man was not a dreamer nor a wonderer. He was an organiser, a codifier, a builder of systems. He wanted "a place for everything and everything in its place." Distinction, definition, tabulation were his delight. Though full of turbulent activities, he was equally full of the impulse to formalize them. War was (in intention) formalized by the art of heraldry and the rules of chivalry; sexual passion (in intention), by an elaborate code of love. Highly original and soaring philosophical speculation squeezes itself into a rigid dialectical pattern copied from Aristotle. Studies like Law and Moral Theology, which demand the ordering of very diverse particulars, especially flourish. Every way in which a poet can write (including some in which he had much better not) is classified in the Arts of Rhetoric. There was nothing which medieval people liked better, or did better, than sorting out and tidying up. Of all our modern inventions I suspect that they would most have admired the card index.
---
The Elephant's Trunk
From
Steven Pinker
The Language Instinct. New York: Morrow, 1994, page 332.
The elephant's trunk is six feet long and one foot thick and contains sixty thousand muscles. Elephants can use their trunks to uproot trees, stack timber, or carefully place huge logs in position when recruited to build bridges. An elephant can curl its trunk around a pencil and draw characters on letter-size paper. With the two muscular extensions at the tip, it can remove a thorn, pick up a pin or a dime, uncork a bottle, slide the bolt off a cage door and hide it on a ledge, or grip a cup so firmly, without breaking it, that only another elephant can pull it away. the tip is sensitive enough for a blindfolded elephant to ascertain the shape and texture of objects. In the wild, elephants use their trunks to pull up clumps of grass and tap them against their knees to knock off dirt, to shake coconuts out of palm trees, and to powder their bodies with dust. They use their trunks to probe the ground as they walk, avoiding pit traps, and to dig wells and siphon water from them. Elephants can walk underwater on the beds of deep rivers or swim like submarines for miles, using their trunks as snorkels. They communicate through their trunks by trumpeting, humming, roaring, piping, purring, rumbling, and making a crumpling-metal sound by rapping the trunk against the ground. The trunk is lined with chemoreceptors that allow the elephant to smell a python hidden in the grass or food a mile away.
---
Boxing
From
A. J. Liebling
The Sweet Science. New York: Farrar, 1951, page 17-18.
Watching a fight on television has always seemed to me a poor substitute for being there. For one thing, I like to study one boxer's problem, solve it, and then communicate my solution vocally. On occasion my advice is disregarded, as when I tell a man to stay away from the other fellow's left and he doesn't, but in such cases I assume that he hasn't heard my counsel, or that his opponent has, and has acted on it. Some fighters hear better and are more suggestible than others–for example, the pre-television Joe Louis. "Let him have it, Joe!" I would yell whenever I saw him fight, and sooner or later he would let the other fellow have it. I get a feeling of participation that way that I don't in front of a television screen. I could yell, of course, but I would know that if my suggestion was adopted, it would be by merest coincidence.
---
A Good Appetite
From
A. J. Liebling
Between Meals: An Appetite for Paris. New York: Farrar, 1959, page 4-5.
In the heroic age before the First World War, there were men and women who ate, in addition to a whacking lunch and a glorious dinner, a voluminous super after the theater or the other amusements of the evening. I have known some of the survivors, octogenarians of unblemished appetite and unfailing good humor–spry, wry, and free of the ulcers that come from worrying about a balanced diet–but they have had no emulators in France since the doctors there discovered the existence of the human liver. From that time on, French life has been built to an increasing extent around that organ, and a niggling caution has replaced the old recklessness; the liver was the seat of the Maginot mentality.
---
The Audubon Field Guide
From
John Bull and John Farrand, Jr.
The Audubon Society Field Guide to North American Birds, Eastern Region. New York: Knopf, 1977. "Tufted Titmouse," pages 658-659; "Northern Shrike," page 514
Tufted Titmouse, including Black-crested Titmouse
(Parus bicolor)
Titmice are social birds and, especially in winter, join with small mixed flocks of chickadees, nuthatches, kinglets, creepers, and the smaller woodpeckers. Although a frequent visitor at feeders, it is not as tame or confiding as the chickadees. It often clings to the bark of trees and turns upside down to pick spiders and insects from the underside of a twig or leaf. The "Black-crested Titmouse" of Texas was until recently considered a separate species.
Voice: Its commonest call, sung year-round and carrying a considerable distance, is a whistled series of four to eight notes sounding like Peter-Peter repeated over and over.

Northern Shrike
(Lanius excubitor)
Unusual among songbirds, shrikes prey on small birds and rodents, catching them with the bill and sometimes impaling them on thorns or barbed wire for storage. Like other northern birds that depend on rodent populations, the Northern Shrike's movements are cyclical, becoming more abundant in the South when northern rodent populations are low. At times they hunt from an open perch, where they sit motionless until prey appears; at other times they hover in the air ready to pounce on anything that moves.
---
Oranges
From
John McPhee
Oranges. New York: Farrar, 1966, page 6-10
The first know reference to oranges occurs in the second book of the Five Classics, which appeared in China around 500 B.C. and is generally regarded as having been edited by Confucius. The main course of the migration of the fruit–from its origins near the South China Sea, down into the Malay Archipelago, then on four thousand miles of ocean current to the east coast of Africa, across the desert by caravan and into the Mediterranean basin, then over the Atlantic to the American continents–closely and sometimes exactly kept pace with the major journeys of civilization. There were no oranges in the Western Hemisphere before Columbus himself introduced them. It was Pizarro who took them to Peru. The seeds the Spaniards carried came from trees that had entered Spain as a result of the rise of Islam. The development of orange botany owes something to Vasco da Gama and even more to Alexander the Great; oranges had symbolic importance in the paintings of Renaissance masters; in other times, at least two overwhelming invasions of the Italian peninsula were inspired by the visions of paradise that oranges engendered in northern minds. Oranges were once the fruit of the gods, to whom they were the golden apples of the Hesperides, which were stolen by Hercules. Then, in successive declensions, oranges became the fruit of emperors and kings. of the upper prelacy, of the aristocracy, and, by the eighteenth century, of the rich bourgeoisie. Another hundred years went by before they came within the reach of the middle classes, and not until early in this century did they at last become a fruit of the community.
Just after the Second World War, three scientists working in central Florida surprised themselves with a simple idea that resulted in the development of commercial orange-juice concentrate. A couple of dozen enormous factories sprang out of the hammocks, and Florida, which can be counted on in most seasons to produce about a quarter of all the oranges grown in the world, was soon putting most of them through the process that results in small, trim cans, about two inches in diameter and four inches high, containing orange juice that has been boiled to high viscosity in a vacuum, separated into several component parts, reassembled, flavored, and then frozen solid. People in the United States used to consume more fresh oranges than all other fresh fruits combined, but in less than twenty years the per-capita consumption has gone down seventy-five per cent, as appearances of actual oranges in most of the United States have become steadily less frequent. Fresh, whole, round, orange oranges are hardly extinct, or course, but they have seen better days since they left the garden of Hesperides.
Fresh oranges have become, in a way, old-fashioned. The frozen product made from them is pure and sweet, with a laboratory-controlled balance between its acids and its sugars; its color and its flavor components are as uniform as science can make them, and a consumer opening the six-ounce can is confident that the drink he is about to reconstitute will taste almost exactly like the juice that he took out of the last can he bought. Fresh orange juice, on the other hand, is probably less consistent in flavor than any other natural or fermented drink, with the possible exception of wine.
The taste and aroma of oranges differ by type, season, county, state, and country, and even as a result of the position of the individual orange in the framework of the tree on which it grew. Ground fruit–the orange that one can reach and pick from the ground–is not as sweet as fruit that grows high on the tree. Outside fruit is sweeter than inside fruit. Oranges grown on the south side of a tree are sweeter than oranges grown on the east or west sides, and oranges grown on the north side are the least sweet of the lot. The quantity of juice in an orange, and even the amount of Vitamin C it contains, will follow the same pattern of variation. Beyond this, there are differentiations of quality inside a single orange. Individual segments vary from one another in their content of acid and sugar. But that is cutting it pretty fine. Orange men, the ones who actually work in the groves, don't discriminate to that extent. When they eat an orange, they snap out the long, thing blades of their fruit knives and peel down, halfway, form the blossom end. They eat the blossom half and throw the rest of the orange away.
An orange grown in Florida usually has a thin and tightly fitting skin, and it is also heavy with juice. Californians say that if you want to eat a Florida orange you have to get into a bathtub first. California oranges are light in weight and have thick skins that break easily and come off in hunks. The flesh inside is marvelously sweet, and the segments almost separate themselves. In Florida, it is said that you can run over a Californian orange with a ten-ton truck and not even wet the pavement. The differences from which these hyperboles arise will prevail in the two states even if the type of orange is the same. In arid climates, like California's, oranges develop a thick albedo, which is the white part of the skin. Florida is one of the two or three most rained-upon states in the United States. California uses the Colorado River and similarly impressive sources to irrigate its oranges, but of course irrigation can only do so much. The annual difference in rainfall between the Florida and California orange-growing areas is one million one hundred and forty thousand gallons per acre. For years, California was the leading orange state, but Florida surpassed California in 1942, and grows three times as many oranges now. California oranges, for their part, can safely be called three times as beautiful.
---
Care of the Seasick
From
Queene Hooper Foster
Boating Etiquette. New York: Hearst, 2005, page 89-90.
Seasickness makes you lethargic, weak, down at the mouth, and hopeless, in addition to dizzy and prone to vomit. It makes you want to roll through the lifelines and slip into the waves to end the horrible condition that flesh is heir to. You may not care if the fuel needs checking, the sails need trimming, or the navigation needs updating. It can make you furious with yourself for being out there at all, so furious that you don't care if you are wet and cold, hungry and dehydrated, or drifting into harm's way.
Neophyte victims of seasickness need care and attention, though they may not get it if things are really rough. Never ask someone with a pale face if he or she feels sick; you can tell by the frown and quiet nature, if not by the sudden trip to the lee rail (the rail that is down, and downwind). Sometimes just thinking about seasickness can rock the boat just a bit more and cast the victim into a sea of despair. People who are seasick should be encouraged to participate in whatever is going on on deck, encouraged to drink something (soda or broth is best) and to eat something bland, even if it comes up later. Give the seasick an active job on deck, such as trimming a sail, steering, or watching for a buoy. The less said about being seasick , the better. If the wolf of mal de mer knocks on the door, pretend that you do not hear. If you answer the door, the wolf will come bounding in.
If trouble looks inevitable, direct the seasick crew to the lee rail. Often they will feel much better after a few moments leaning over the rail and clearing out the stomach, and will soon be ready to get on with their duties. Give them moistened paper towel and a very small glass of water. This small courtesy has a surprisingly helpful effect in bringing the victim's spirits up quickly.
If someone is really in the grip of the wolf and feels unable or unwilling to help manage the vessel, you must send him or her off watch, to bunk below and amidships (the most comfortable part of the boat) to lie down with a blanket. Once down, through, the crew member may find it harder than ever to return to the deck. Stricken crew may say they feel more comfortable huddled in the corner of the cockpit, under a blanket, staring out at the unbalanced horizon, but they get in the way of active crew there, and should be encouraged to wait out their suffering down below, with their eyes closed. It will be warmer, quieter, and easier to get some curative sleep. Lee cloths or leeboards should be set up for the sick crew to keep them from tumbling out of the berth in the roll of the waves, but sick crew either forget or don't know what lee cloths are, or what might be the most comfortable berth for them, so the skipper or another active crew member should help to get the sufferer comfortable and safely tucked away.
---
Holbein's The Ambassadors
From
Stephen Greenblatt
Renaissance Self-Fashioning. Chicago: U of Chicago Press, 1980, page 17-19.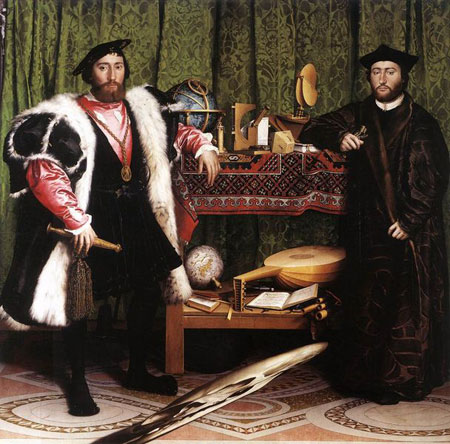 Jean de Dinteville, seigneuer de Polisy and Francis I's ambassador to the English court, and his friend Georges de Selve, shortly to be bishop of Lavaur, stand at either side of a two-shelved table. They are young, successful men, whose impressively wide-ranging interests and accomplishments are elegantly recorded by the objects scattered with careful casualness on the table: celestial and terrestrial globes, sundials, quadrants and other instruments of astronomy and geometry, a lute, a case of flutes, a German book of arithmetic, kept open by a square, an open German hymn book, on whose pages may be seen part of Luther's translation of the "Veni Creator Spiritus" and his "Shortened Version of the Ten Commandments." . . .
Dinteville and Selve are depicted in the context of the highest hopes and achievements of their age. The objects on the table between them, set off splendidly by the rich Turkish cloth and the exquisite mosaic pavement, represent a mastery of the Quadrivium, that portion of the Seven Liberal Arts comprising Music, Arithmetic, Geometry, and Astronomy, while a mastery of the Trivium–Grammar, Logic, and Rhetoric–is implied by the very profession of the two figures. They are thus in possession of the instruments–both literal and symbolic–by which men bring the world into focus, represent it in proper perspective. Indeed, in addition to their significance as emblems of the Liberal Arts, the objects on the table virtually constitute a series of textbook illustrations for a manual on the art of perspective. The Renaissance invested this art with far more than technical significance; for Neoplatonism in particular, the power to map, mirror, or represent the world bore witness to the spark of the divine in man. . . .
The terrestrial and celestial spheres, the sword and the book, the state and the church, Protestantism and Catholicism, the mind as measurer of all things and the mind as unifying force, the arts and the sciences, the power of images and the power of words–all are conjoined then in Holbein's painting and integrated in a design as intricate as the pavement. And yet slashing across the pavement, intruding upon these complex harmonies and disrupting them, is the extraordinary anamorphic representation of the death's-head. Viewed frontally, the skull is an unreadable blur in the center foreground of the painting; only from the proper position at the side of the painting is it suddenly revealed.
The death's-head is most obviously a bravura display of Holbein's virtuosity, elsewhere manifested in his rendering of the complex network of surfaces on the geometrical instruments, but it also bears a more integral relation to the composition as a whole. In a major study of the painting and its subjects, Mary F. S. Hervey observed that Dinteville's cap is adorned by a small brooch on which is engraved a silver skull, and concluded that the ambassador must have adopted the death's-head as his personal badge or devise. This theory is plausible, but it should not be made to suggest too ornamental a function for elements that, in one's experience of the painting, are far more disquieting. The skull as devise is at once a gesture of self-adornment and a gesture of self-cancellation. Death may be reduced on Dinteville's cap to a fashionable piece of jewelry, an enhancement of the self, but this reduction seems as much mocked as confirmed by the large alien presence that has intruded into this supremely civilized world of human achievement. The anamorphic death's-head draws to itself another discordant element in the painting: the broken string of the lute, an emblematic play upon the very idea of discord. Together these suggest a subtle but powerful countercurrent to the forces of harmony, reconciliation, and confident intellectual achievement embodied elsewhere in the picture's objects and figures. None of these antitypes is immediately visible–the ornamental skull and broken string reveal themselves only to the closest scrutiny, only, that is, if one abandons the large, encompassing view of the painting and approaches the canvas with such myopic closeness that the whole gives way to a mass of individual details. To see the large death's-head requires a still more radical abandonment of what we take to be "normal" vision; we must throw the entire painting our of perspective in order to bring into perspective what our usual mode of perception cannot comprehend.